Training & Teaching
Guy Mallabone, MA, CFRE is recognized internationally as one of the most thoughtful, inspiring, and provocative speakers in the nonprofit / NGO sector.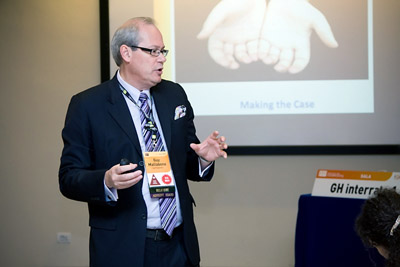 Consistently recognized as a top-ranked speaker, Guy presents workshops, seminars, and keynote addresses throughout the world.  Speaking engagements include conferences and training programs all over North America, South America, Europe, Asia and Africa.  Presentations have taken place for conferences throughout the world, including:
Visit the Testimonials section of this website to see what people say about Guy's presenting.

Guy is an Adjunct Professor for the Masters of Fundraising program at the University of Bologna in Italy.  This Masters program is situated in the oldest university in the world, and is one of the oldest fund development graduate level instruction programs in the world.
Workshops and Seminars: Guy also creates and delivers customized training sessions throughout the world.  Sessions may vary from a basic seminar session, to full key note sessions, or longer MasterClass workshops.  Sessions are personalized to the target audience in mind, and accommodate the national culture involved, the experience level of the audience, and general desired outcomes requested.
Typical session length: 1.5 hours; 2 hours; 3 hours. All-day sessions are also available. Small group activities are included in longer sessions.  All sessions are developed and delivered with adult learning principles.
Resource materials:  Quality resource materials are provided to those attending the workshops and seminars.

General topic areas: Sessions can be tailored to any topic.  Recent sessions have included:
Developing Your Personal Brand: A Fund Development Primer
Impact of the Economy on Major Gift Fundraising
How High is Up: The Fund Development Audit
Moves Management: An introduction to Donor Centered Techniques for Major Gift Fundraising
Lessons Learned from 30 Years in Fund Development
Capital Campaigns Workshop
Major Donor Fundraising: A Global Perspective
Exercising Your Ask Muscle – Best Practice Technique in Major Gift Solicitation
Nuts & Bolts of Constructing Your Case Statement
Motivating the MoneyGivers
Going for the Gold: Designing Effective Cultivation and Ask Techniques for Foundations, Corporations and Individuals
Role and Responsibilities of Volunteers/Board in Fund Development
Fusion or Confusion – Combining the Major Gift and Planned Gift Asks
Metrics and Measurement – Managing Fund Development Performance