Files & Books
See below for the following resources:
1. Coaching & Mentoring Newsletter (2009)
2. Fund Development Audit Survey (2010)
3. Motivators and Barriers to Giving Thesis (2000)
4. ARTICLE: Ask and Ye Shall Receive (December 2009)
5. ARTICLE: What Makes a Major Gift, Major? (November 2011)
6. Fund Development Audit Handbook – 2nd Printing (January 2011)
7. Ten Costly Mistakes that could Sink Your Capital Campaign (May 2013)
1. COACHING AND MENTORING NEWSLETTER
At any give time in your career, you may find the need to seek assistance from a professional mentor consultant. Finding the 'right' one for you may be a challenge, or a snap. To find out more about securing a mentor or personal coach, click on the document link below.
2. FUND DEVELOPMENT AUDIT SURVEY
VIDEO: If your Fund Development Audit is Successful
VIDEO: Why do a Fund Development Audit?
VIDEO: What is a Fund Development Audit?
The fund development audit is an essential tool to help measure the gap between an organization's current fund raising practice, and the state of best practice in the industry. Every organization that operates in the non-profit sector must at least be aware of the fundamental strategies and tactics that are being used by others, and be well versed on the best practices that will take their fund development program from 'good to great'. Groups that still fundraise in the traditional, narrow sense will not raise the money needed to fully fund their mission, and are in danger of being left behind by those that have embraced comprehensive fund development strategies.
The audit survey tool link below, makes current best practice thinking accessible to all. Please note it is a copyrighted document and is provided for your own personal use only.
For more information on this topic, look to buy The Fund Develoment Audit book written by yours truly and my colleague Ken Balmer, published by Civil Sector Press out of Toronto, Canada.
Contact: Leanne Hitchcock
Publisher, Civil Sector Press
Box 86, Station C, Toronto, Ontario
CANADA M6J 3M7
Tel: 416.345.9403 Fax: 416.345.8010
leanne@hilborn.com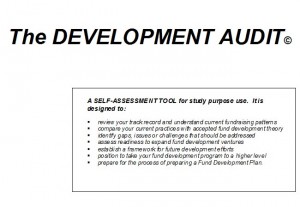 3. MOTIVATORS AND BARRIERS TO GIVING THESIS
Motivators and Barriers to Philanthropic Giving by Entrepreneurs, is a study of Canadian donors, and the identification of motivations and barriers to philanthropic giving by entrepreneurs and non-entrepreneurs. It was written by Guy Mallabone and Tony Myers in 2000 as part of their thesis while completing a Masters degree in Philanthopy and Fund Development at St. Mary's University in Minnesota, USA.
The study consists of a review of the literature on motivations and barriers to giving in general and by entrepreneurs specifically, as well as a contextual look at general giving trends in Canada and a review of key definitional concepts for the term entrepreneur. Additional qualitative research was conducted consisting of twenty key informant interviews across North America and three focus group sessions conducted in three Canadian cities (Calgary, Winnipeg, and Toronto). The culmination of the study was a national quantitative base-line survey involving 1,203 respondent donors.
The study examined the specific factors that affect the (a) giving of a next gift, (b) increasing a gift amount, (c) giving an 'ultimate' gift, (d) refusing to make a specific philanthropic gift, and (e) ceasing to give to a non-profit organization. The data gathered in the national survey is statistically valid +/- 3.5%, 19 times out of 20. The study included segmentation by gender, region of the country, income levels, education levels, and level of giving. While the survey allowed for the data to be collected and sorted based on a number of demographic variables (including age, gender, household income, education level, philanthropic giving level, region, etcetera), the analysis of the data in this study was done principally on entrepreneurs and non-entrepreneurs.
For a complete copy of this research you may download the link below.
4. ASK AND YE SHALL RECEIVE
For many of us, the journey to becoming a fundraising professional is unplanned. Guided by a strong inner philanthropic compass, we direct our energies toward raising money for causes and missions close to us. The reality, though, is that the lessons most worth learning are often the ones that take the longest to learn. Chief among these is the importance of asking.
To read more about this topic, download the article below:
5. WHAT MAKES A MAJOR GIFT, MAJOR?
Defining major gifts by only their size is inconclusive. While there is no minimum or maximum gift size that qualifies a gift to be termed "major," the common characteristics are that all major gifts tend to be solicited face-to-face, and the amounts given tend to reflect that personal approach.
To read more about this topic, download the article below:
 6. FUND DEVELOPMENT AUDIT HANDBOOK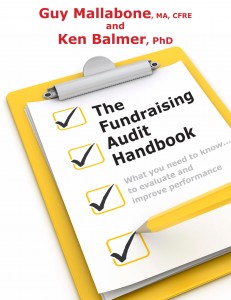 7. TEN COSTLY MISTAKES THAT COULD SINK YOUR CAPITAL CAMPAIGN